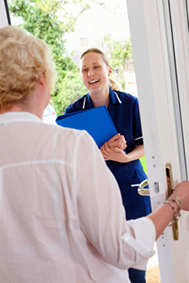 Scheduling Your Home Visit
Apex Laboratory will contact the patient the evening before the scheduled visit. At this time, an estimated time window of arrival will be given to the patient for the following day.
If a blood test has been ordered fasting, the technician will instruct the patient not to eat. All fasting appoinments will be scheduled no later than 9:45am.
If a patient is not available during the given time window, some visits may be rescheduled for the next business day. If you would like to reschedule your appointment ahead of time, please contact your regional Apex office so that we may make any necessary schedule adjustments.
Scheduling Tips
To better assist you, please let your Apex technician know of any special circumstances regarding your home visit prior to arrival such as:
Hard Of Hearing
Use Side Door
Gate Code or Door Code
Apartment Number
Ample Time Needed to Answer Door
Alternate Phone Numbers
Check Your Apex Schedule
To find out when your next scheduled home visit is, or to make a schedule change please contact your regional office.
Apex will make every effort to accomodate the needs of the patients, however we are unable to guarantee a specific time of arrival.