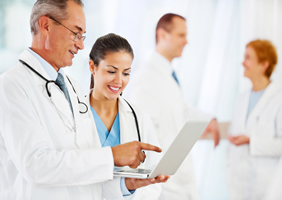 Apex Web Scheduler
Apex's Online Web Scheduler offers healthcare providers an online solution to assist in effectively managing their practice or agency.
Electronic lab results can be viewed and saved into your practice's medical records for easy access. No more wasted time on scanning paperwork or shuffling through faxes.
Schedule home visits online without having to fill out request forms and stand by the fax machine.
Patient Dashboard
View past lab results, visit details, upcoming visits and much more by using Apex's "Patient Dashboard".
Everything you need is available without having to click around searching for information.
Visit Details
Find out if your patients appointment has been confirmed by using the "Visit Details" feature.
Specimen arrival time at the lab and pending results can also be viewed to give users a better idea of when to expect results.
Email Alerts
Users may elect to receive email alerts letting them know when test results are ready.
Alerts may be sent for final results, critical results, partial results or choose to receive all three.