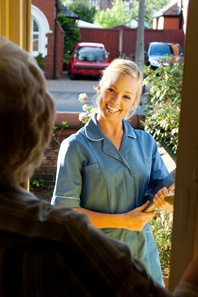 What Patients Should Expect
Letting your patient know a blood test has been scheduled at
home with Apex is always a good idea to avoid any confusion.
Apex phlebotomists will contact the patient the evening before the scheduled blood draw with an approximate time window of arrival.
It is always helpful to include as much contact information as possible
when scheduling a home visit such as alternate contact and apartment numbers.
Fasting Bloodwork
Patients will be notified of any blood tests that have been ordered fasting.
Apex will only instruct a patient to fast if it has been requested by the ordering physician.
All fasting patients will be scheduled before 10am.
Arriving On Time
To keep our phlebotomists on time and ensure all specimens make it back to the lab in a timely manner, some visits may be rescheduled for the next business day if a patient is unavailable during the scheduled time window.
For Your Patients
Click on the link below to download an Apex contact sheet to give to your patients.
If your patient has any special requests or scheduling conflicts, please have them contact us so we can make any necessary scheduling changes.